WILLIAM GAZECKI UNDER FIRE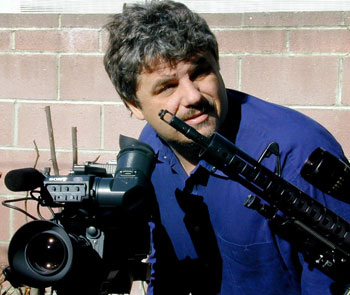 Nothing could have prepared filmmaker William Gazecki for his experience making WACO: The Rules Of Engagement. Not 20 years of experience in music, records, radio, film, film sound, video, video sweetening, and television. Nothing. "It wasn't my previous documentary film experiences but my previous feature film experiences that prepared me for WACO," says Gazecki. "It was the work I did in studying feature film story structure and dramatic story structure. There is a lot of talk now about applying feature film story structure components, dramatic components, to the documentary genre, which is one of my specialties; Applying narrative dramatic story structure to documentary films so that they play as compelling stories."
As a documentary filmmaker, Gazecki has been awarded the International Documentary Association's Distinguished Documentary Achievement Award. His film WACO: The Rules of Engagement premiered at the Sundance Film Festival and won awards at both the Atlanta Film Festival and the Charleston International Film Festival, was nominated for an Academy Award of Merit by the Academy of Motion Picture Arts and Sciences, and won an Emmy Award for Outstanding Investigative Journalism.
Gazecki came to documentary filmmaking from an accomplished career as an Emmy Award-winning motion picture sound mixer and record producer. Raised in San Francisco, he began exploring an interest in music as a teenager during the 1970s. Extensive study in music recording and producing led to employment with leading recording companies including Electra/Asylum/Nonesuch and Rhino Records. He worked with such major recording artists as Fleetwood Mac, Leo Sayer and Joe Cocker.
In the late 70s, Gazecki and record producer and pioneer, Paul Rothchild produced a number of Gold and Platinum albums, including The Rose with Bette Midler and two record albums by The Doors. In the 1980s Gazecki segued into film post-production sound. Despite growing success in the Hollywood, Gazecki began to turn his attention to documentary filmmaking. This was borne largely out of personal convictions: a need for greater voice in the pressing social problems of the day and the desire to make a contribution within the community. What brought Gazecki to WACO he describes as a fluke.
Film Threat caught up with the award-winning filmmaker to discuss docs, WACO and shooting film under fire:
Get the interview in part two of WILLIAM GAZECKI UNDER FIRE>>>